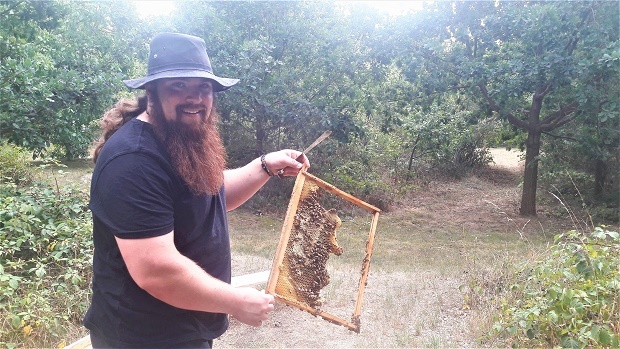 Hi, my name is Fabian Kalis and this is Barefoot Bees. I run a small and natural beekeeping business and I'm also an ethnobiologist and nature experiential educator. For over ten years now I have been fascinated by the bees. And for almost the same time I've been walking barefoot in everyday life. Therefore the title Barefoot Bees.
I am most interested in the ethnozoological research of the honeybees where I investigate ancient magic, rituals, folklore, myths, culture, and of course the rare honey of the world (including some intoxicating ones).
Some of my research has been published in my book "Berauschende Bienen" which unfortunately is only available in the German language yet.
Here on this blog, I will post articles (and sometimes videos) about the fascinating bee-related things I find out about.
More about me and my other work you'll find at
My main website with info about me and all of my work.
My Beekeeper Business Onlineshop.
The Website about my work as a nature experiential educator where you'll find all of my workshops etc. and also my nature blog in german.
Protecting the hornets which are an endangered species in Germany.