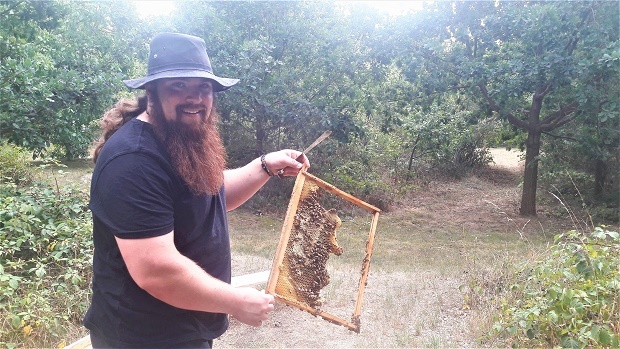 Hi, my name is Fabian Kalis and this is Barefoot Bees. I run a small and natural apiary, and I'm also an ethnobiologist and nature experiential educator. For over ten years now I have been fascinated by the bees. And for almost the same time I've been walking barefoot in everyday life. Hence the title Barefoot Bees.
I am most interested in the ethnozoological research of the honeybees where I investigate ancient magic, rituals, folklore, myths, culture, and of course the use of the rare honey of the world (including healing, poisonous and intoxicating ones).
Some of my research has been published in my book "Berauschende Bienen" which unfortunately is only available in the German language yet. I also write articles for magazines and my German nature blog. Currently,  I am working on another book since there is so much more to share about these subjects.
Here on this blog, I will post articles (and sometimes videos) about some of the fascinating bee-related facts I find out about in my research. My intention with creating this blog in the English language is to share these stories with a broader readership and thereby to make it reach a greater audience. As you may have guessed by now English is not my native tongue, so there will be mistakes here and there. But I think the fascinating facts I want to share are worth telling anyway.
I am always interested in learning more about the bees, so if you happen to know an interesting and not well-known bee fact yourself or have a special bee-related subject to show me, feel free to contact me or invite me for a visit. I appreciate every hint and am curious to explore unfamiliar bee-related places, apiaries, and ancient and traditional beekeeping techniques from all over the world.
More about me and my other work you'll find at
My main website with info about me and all of my work.
My online shop where you can buy honey and bee products from my own apiary.